Apple's iOS App Store will turn 10 years old on July 10 so to commemorate this, app analytics firm App Annie has made a detailed report of the top apps and games in the App Store, spanning 2010 (when it started tracking the App Store) to today.
The report is divided between Apps and Games and then by most downloaded and the most profitable – the paid ones.
Top Apps by download and revenue
The most downloaded apps are Facebook and Facebook Messenger, YouTube, Instagram and WhatsApp Messenger.
But in terms of top apps ranked by consumer spend it's the subscription services that flourish. Netflix, Spotify and Pandora Radio make the top three.
Netflix is approaching $1B in global consumer revenue, which adds credibility to rumors that Apple will soon offer a bundle service of TV, movie and music for a single subscription.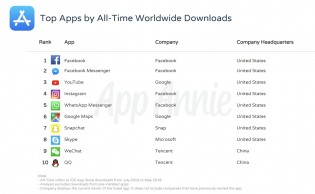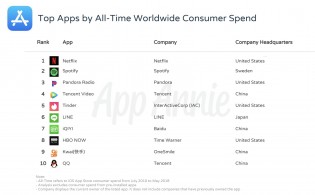 Image credit: App Annie via TechCrunch
Top Games by downloads and revenue
During the period of 2010 to 2018 the most downloaded game was Candy Crush Saga, followed by Subway Surfers and Fruit Ninja. Angry Birds and the Temple Run series (1 and 2) are also on the list. Candy Crush has been downloaded more than 280 million times.
Looking at the top games by revenue, Clash of Clans leads with more than $4B. Interestingly Angry Birds isn't in the top 10 most profitable games of all time.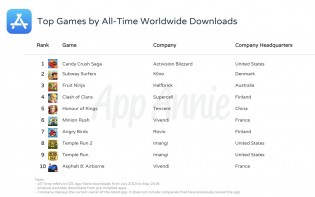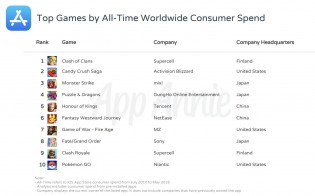 Image credit: App Annie via TechCrunch
A bit of perspective
You can see how the iOS App Store compares to its 2010 version by looking at the image below. Back then people spent the most money for apps like Shazam, Quickoffice and navigation apps like TomTom or Navigon. Nowadays we spend the most for Netflix, HBO Now or Tencent Video.
Facebook remains one of the most downloaded apps since 2010 but Skype and Twitter have fallen out of fashion.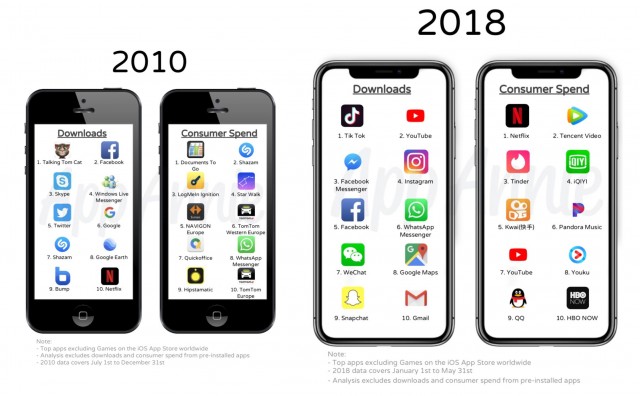 Image credit: App Annie
And finally we can take a look at the top markets of the iOS App Store. The US is the leader in both downloads and money spent on apps, followed closely by China.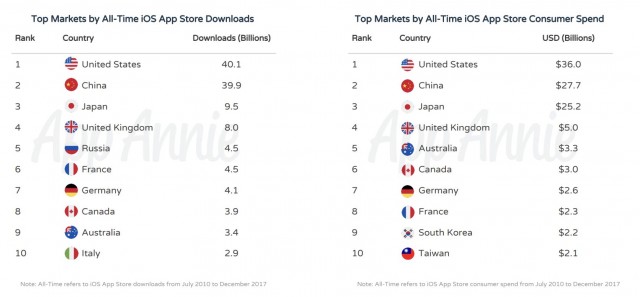 Image credit: App Annie via TechCrunch
It will be interesting to see where the Apple's App Store goes from here. Right now it has passed the 170 billion downloads mark and has seen more than $130 billion in revenue on its over 2.2 million apps.
It would also be interesting to see the Android side of things. Google Play, formerly Android Market, is also pushing 10 years old. Its anniversary is on October 22 and we'd love to see a similar report so we can see how the two compare.