HTC u12 plus review :
This is the HTC u12 plus so htc has had a couple really interesting years leading up to this new phone and this turns out to be of the only flagships available in 2018 with no knotch and a couple super unique features and the other thing is in the US or anywhere really this phones not going to be stores that may explain why you or someone you know hasn't really heard of this or you're hearing about it for the first time not as much hype around the sky but it will be available online for $849 bucks so that's definitely high-end it's a premium flagship .
Introduction
HTC is back with the next generation of its Liquid Surface phones. The HTC U12+ is this year's flagship from the Taiwanese phone maker and it improves on some of the features first introduced by the U11. Edge Sense 2.0 gets new gestures and there are now double the number of cameras: dual cameras on the front and rear.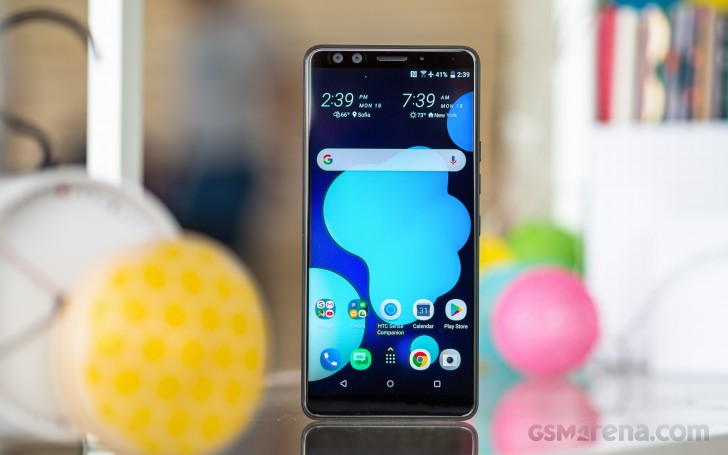 HTC decided to give the U12 the "Plus" suffix, even though there won't be a non-Plus model. This is because HTC wants everyone to know that it is comparable to other smartphones that carry the "Plus" moniker like the iPhone 8 Plus or the Galaxy S9+. It's about as large as the latter, but HTC's Liquid Surface glass looks much nicer by comparison.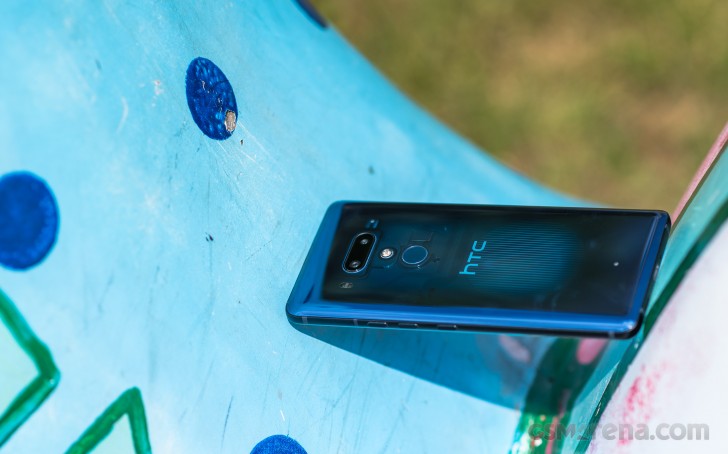 We're looking at a great feature set for the U12+: a high-performing dual camera system, dual cameras in the front (a first for any HTC flagship coming to the States), Edge Sense 2.0, and a new LCD 6 display which supports HDR 10. Other features like the noise-cancelling USonic earbuds have made a return in the same state as last year.
HTC was reluctant to switch to 18:9 displays for the U11, but ended up releasing the U11+ late-last year in select markets. With the U12, HTC has embraced this new taller display trend. We're also quite thankful there is no notch.
HTC U12 plus Specification
HTC u12+
features
Body
'Liquid Surface' glass back; IP68 rating; 156.6 x 73.9 x 8.7 mm, 188g
Screen
6.0" 2880x1440px (18:9) Super LCD 6, 537ppi; DCI-P3 and sRGB color space coverage; HDR 10 compliance
Chipset
Qualcomm Snapdragon 845, octa-core CPU (4x2.7GHz Kryo 385 Gold & 4x1.7GHz Kryo 385 Silver), Adreno 630 GPU
Operating System
Android 8.0, HTC Sense
Platform
Qualcomm Snapdragon 845
Adreno 630 GPU
Memory
6GB RAM, 64GB/128GB of storage, microSD slot
Rear camera:
Primary 12MP, 1.4µm pixel size, f/1.75 aperture, OIS; Secondary 16MP, 1.0µm pixe
Front camera
2x8MP, 1.12µm pixel size, f/2.0 aperture; fixed focus; 1080p video
Battery
3,500 mAh non-removable, QuickCharge 3.0 charger bundled
Network
4G LTE Cat. 18 up to 1.2Gbps
FDD Bands 1,2,3,4,5,7,8,12,13,17,20, 28, 32, 66
TDD: Bands 38, 39, 40, 41
Colors
Translucent Blue, Flaming Red, Ceramic Black
Weight
188 grams
Price
$799 (Rs 54619.64 inr)
Misc
Rear-mounted fingerprint sensor, BoomSound dual speakers; pressure sensitive buttons
The U11's camera was pretty killer, and we expect that the U12+ will be even better. Of course, that second camera brings 2X zoom and a proper portrait mode. Also new to HTC's flagship is 60 fps video at 4K resolution. There is no super slo-mo like the other guys, but there is 240fps slow motion at 1080p resolution.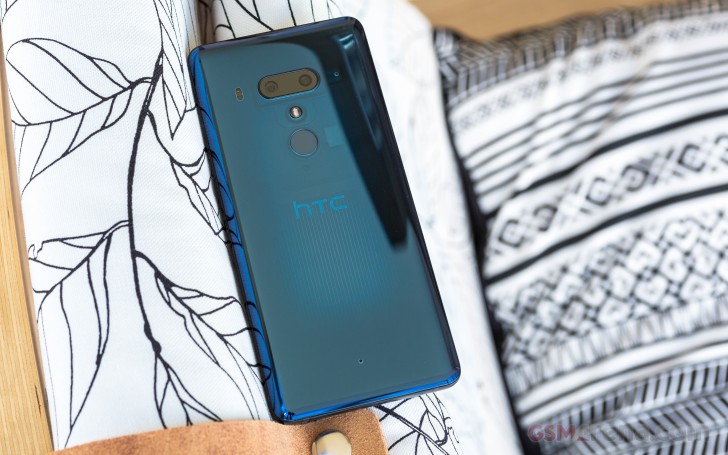 In terms of performance, the U12+ brings Qualcomm's latest Snapdragon 845 along with 6GB of RAM and at least 64GB of expandable storage. In terms of a battery, there's a 3,500 mAh one, which is a step up from the U11, but a step down from the U11+.
Of course, HTC how has its Edge Sense 2.0 which lets you "squeeze" out more functionality, so to speak. Strangely, HTC has also made its physical keys digital a-la iPhone 8 Home button. We're not totally sold on these just yet, but we'll let you know how we really feel about them by the end of this review.
Let's take a look at what's inside the box.
HTC U12+ unboxing
The U12+ comes in a flat box with rounded edges and corners. Our Translucent Blue model came in a matte white box with shiny embossed print to write out the phone's name. The back of the box has some of the phone's specifications like internal storage capacity, color, and model information.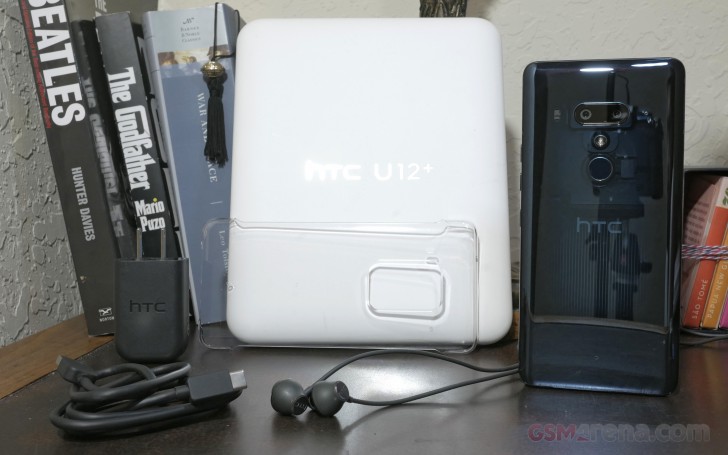 The retail packaging of the U12+ opens to the handset sitting atop the cardboard insert. Under this insert are the included accessories with the U12: a clear glossy plastic case, a cleaning cloth, SIM tool, Quick Charge 3.0 adapter, USB cable, and USonic earbuds. If you're in the United States, you won't be getting a 3.5mm headphone jack to USB-C adapter.
Next up, we'll be taking a closer look at the hardware. We're going to check out the U12's Liquid Glass and a closer look at the digital buttons.
---
Design & hardware
This is the second year since HTC shook up its design style from all-metal to its Liquid Surface glass. The glass comes in three versions: Ceramic Black (not actually ceramic), Translucent Blue (actually translucent), and Flame Red. These colors are a bit more conservative than the bolder Sapphire Blue and Amazing Silver from the U11.
Many argued that the U11 had a very fragile design compared to the HTC 10's rock-solid metal chassis, and they are not wrong. The HTC U12+ brings some design changes to improve the structural integrity of the phone. There's a hard lip in the chassis and you can see this all the way around the perimeter of the display glass. The shape of the rear glass is also flatter and doesn't curve as much.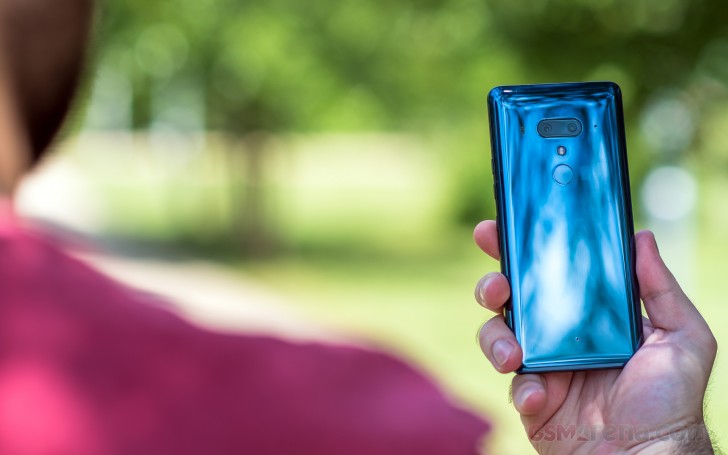 The U12+ has new pressure sensitive buttons that are more like nubs in the chassis. The positives with this new kind of key are: improved water-proofing and better structural integrity. Depending on how you look at it. Actually using these keys might be a bother to some. We'll go into more detail in the UI section.
This device feels like a taller and boxier version of the U11. The taller display bumped the capacitive buttons out and have been replaced with on-screen navigation controls while the fingerprint scanner has moved to the back. The camera is now flush with the rear glass and the camera comes with a laser sensor to assist with autofocus.
Like the U11, the U12+ has pressure sensors embedded into the phone's frame. In addition to pressure sensitivity, the frame can also detect which points of the frame are in contact with your fingers as part of Edge Sense 2.0. Let's take a closer look at the rest of the hardware.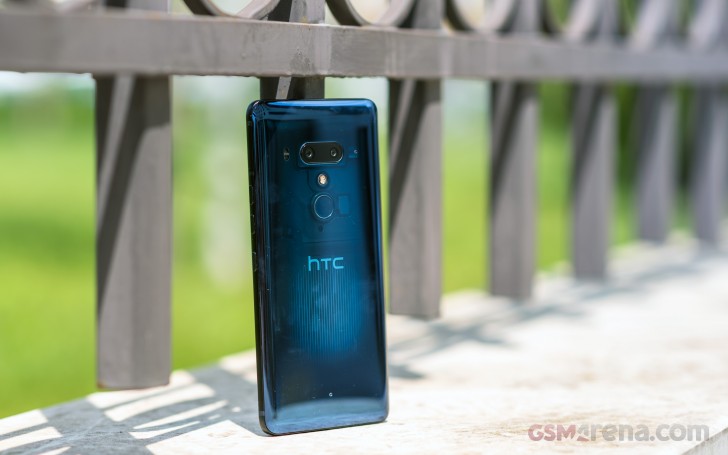 Starting with the front, we've got a tall 6-inch Super LCD display. The screen's corners are not curved like many other manufacturers have done but we aren't complaining. The upper and lower bezels are certainly a bit larger than the Galaxy S9's and this is to make enough room for the BoomSound speakers.
Above the display is the absence of a notch in the display, and we're definitely thankful for this. To the right of the in-call receiver is a mic hole, the usual light, and proximity sensors, as well as a notification LED behind the glass. Dual 8MP selfie cameras take up the space to the left of the receiver. As mentioned earlier, there's a lip around the entire edge of the glass that joins it to the aluminum frame.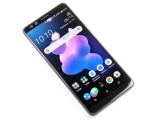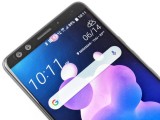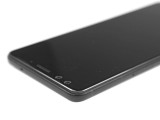 Front (display) • Forehead • Corner
There are no buttons on the left of the device – here is where the SIM/microSD card tray lives. Dual SIM models would have a hybrid slot for either a second SIM card or a microSD card. To the right are the phone's only buttons: power, volume -, and volume +.
The power key has a nice texture for telling it apart from the volume keys, however, these aren't actually buttons, they are pressure-sensitive nubs that simulate buttons and offer haptic feedback. The same pressure sensors used for Edge Sense 2.0 are used to detect which "key" is being applied with pressure. More about these keys in the UI section.
There's a mic at the top, and another on the bottom. Down here is also the BoomSound speaker port, and a USB-C port. There is no headphone jack, so you either have to rely on using an adapter or use the included noise-cancelling USonic Earbuds.
The actual frame looks nice on our Translucent Blue model, which has got a black matte finish. Otherwise, this is the only color option that has see-through glass. HTC first did this with the U11+ and we're happy to see something like this. It lets us peer inside and appreciate some of the inner workings of these devices that we entrust our entire digital lives with.
It doesn't quite take us back to the time in the 90s when transparent housings were all the rage, but it does put a new, more subdued twist on the trend.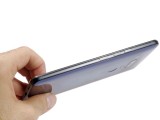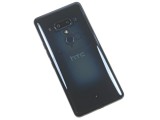 Aluminum frame • translucent back
Centering the back of the phone is the HTC logo, just above the printed stripes that fade the transparent part of the glass to the non-translucence. HTC didn't make this area translucent because it figured that the battery wasn't all that interesting to look at.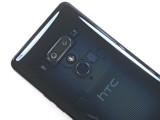 Camera and fingerprint cluster
Above the rear-mounted fingerprint scanner is a dual LED flash and HTC's new dual cameras. This setup reminds us of the LG V30's (or V30+, or V30S, or V35) a little bit in the arrangement and position of the cameras and fingerprint scanner.
The U12+ has dual autofocus systems as well, the lasers are here to the left of the camera and another mic right next to the camera. The camera ring is pretty much flush with the rear glass, so no camera hump here.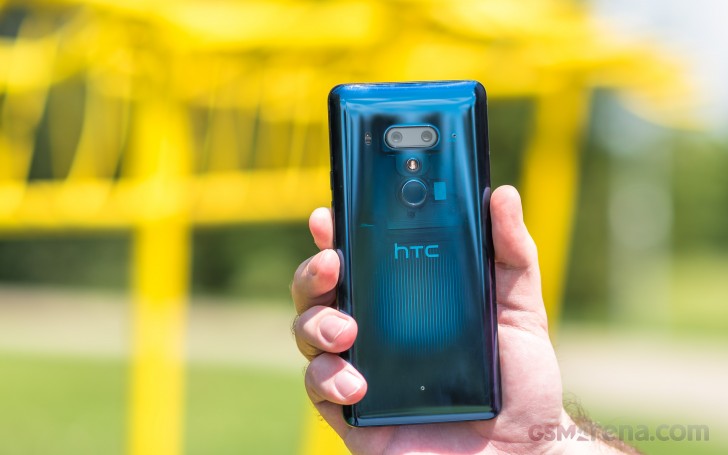 Overall, a handsome looking device from HTC. Our only concerns lie in durability, particularly if the phone was to be dropped on a corner – since the front glass has that lip that goes around the entire front edge of the display.
This glass might be more likely to become damaged than the rear. Thankfully, HTC offers a glossy plastic clear case in the box that you can use until you can get a proper case – which we highly recommend you invest in.
---
The dual camera is back on HTC
Although HTC's flagship went from having two cameras on the U11 to four on the U12, it isn't the first HTC flagship to have a dual camera setup. The HTC One M8 had a separate depth sensor for adjusting focus after taking the shot. It even offered a not-so-convincing artificial blur-effect.
This is the first time HTC has put a dual camera on its flagship since 2014 on the HTC One M8. This is also the first time that HTC puts a dual front-facing camera on its flagship for taking selfies with artificial bokeh.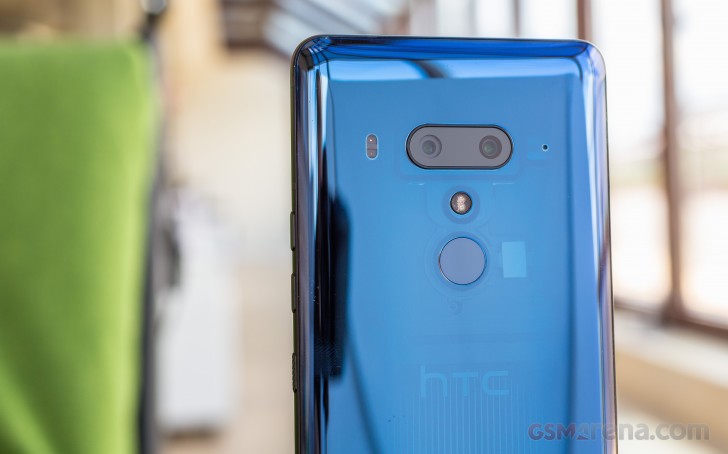 The two main cameras are comprised of a 12MP wide camera with f/1.75 aperture and a 16MP camera with a telephoto lens and an aperture of f/2.6. This second camera, of course, brings artificial bokeh and 2x optical zoom to the HTC Camera experience. For some reason, it would only shoot 12MP photos despite its higher native resolution. The front-camera also gets artificial bokeh selfies despite having neither OIS nor autofocus.
This new camera is HTC's UltraPixel 4 while the U11+ had UltraPixel 3. It uses dual-pixel autofocus like the U11+ and Samsung's Galaxy S9, but this new version brings the addition of laser-assisted autofocus. Also new is HTC's improved HDR Boost 2.
The camera UI has shortcuts for the video camera and portrait modes along with a beauty toggle, resolution chooser, flash, and HDR Boost. Additional camera modes are in the menu drawer and include Panorama, Pro, Video, Hyperlapse, and slow-motion.





Camera UI: Photo • Video • Selfie • Settings
Pro mode gives you control to white balance, ISO up to 800, shutter speed up to 32 seconds, and focus control. You can even save three sets of custom manual controls for using again at a later time. We are also glad that the camera app offers a dedicated video viewfinder.
Like the U11 and U11+ did, the U12+ uses image stacking to process an image with HDR Boost with both the front and the rear cameras. We do believe that one of the cameras benefits from HDR Boost while the other does not.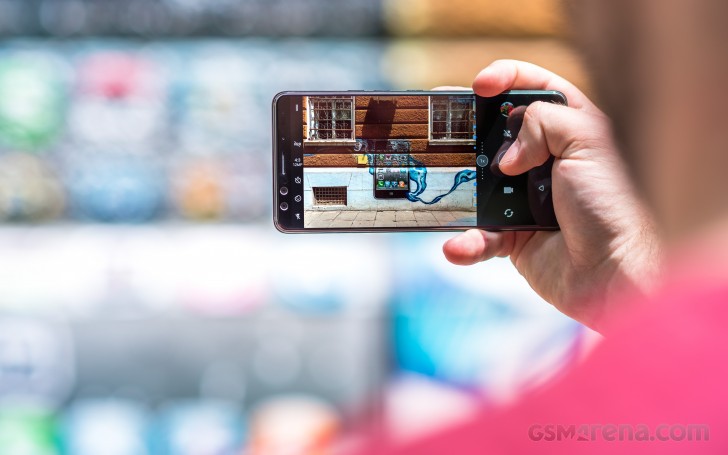 Here are some camera samples. Photos are generally warm in color temperature while details are excellent. Dynamic range is great and colors are true to life. This camera does offer a RAW shooting mode when you switch to the Pro for total control over the images you want to edit.
Something we have noticed, however, is that the camera is quite dependent on HDR Boost. Just keep in mind if you leave HDR Boost on at all times, you may encounter some blurring of people or objects that are in motion.
There's a distinct texture that appears in these blurry people, but it's only noticeable when you really zoom in. There's also a strangely distinct texture within the phone's organic bokeh. In pictures that are more close-up, you can see the natural f/1.75 bokeh of the camera.
What it looks like is happening is the post-image software is trying to reduce noise within the bokeh. This seems to happen more when the camera sees an organic bokeh and HDR Boost is enabled. Otherwise, photos with a much deeper bokeh like the image of the little white daisy flower don't appear as processed.




HDR Boost: Off • On • Off • On
HDR Boost works quite well and can really brighten darker areas or suppress highlights from blowing out the image. Dynamic range does appear to struggle in scenes where there's a lot of light in the sky behind the subject.
Something that we've noticed with the U12 is that HDR Boost works best when it is set to "Auto". In fact, shooting in HDR On, or HDR Off reduces the amount of resolved detail compared to the HDR Auto setting. Check the image comparison chart below so you can see the difference. This being the case, we'd recommend permanently leaving this setting to Auto.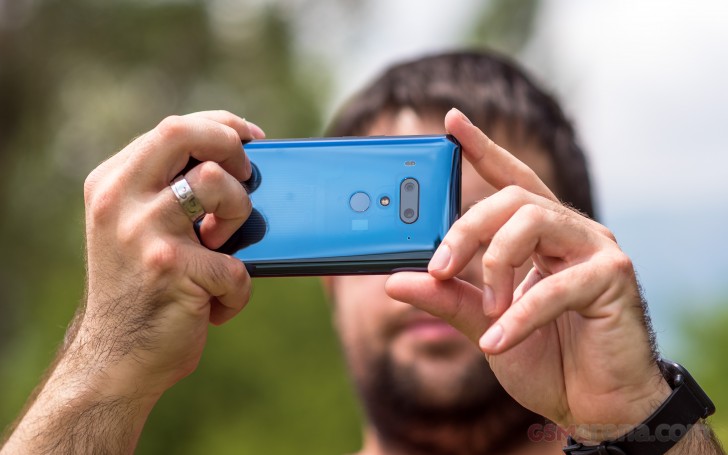 HDR Boost does improve the imbalance, but if you'd rather not trust the camera for really drastic dynamic range shots, set the exposure manually by tapping on a focal point and sliding the exposure up or down.
Now that the U12 has a dual camera, we can now perform 2X optical zoom while taking pictures or videos. 2X zoom works well in photos, but there is some more noticeable noise in the image, particularly in lower-light conditions.
In low-light, the HTC U12 does quite well, particularly when shooting with HDR Boost. Naturally, moving objects are far more prone to blurring in these lower-light conditions. If your scene is static, you can get some very nice-looking night-time photos with the U12+.
The last sample above is a low-light selfie. This low-light selfie doesn't look amazing, but it doesn't look half-bad either.
Portrait mode
The U12+'s second camera allows it to take portrait style "Bokeh" photos. These are best captured when the subject is between 50 and 200 cm (between about 20 inches and 6.5 feet).





Indoor Bokeh: Auto • Manual • Auto • Manual
We found that photos taken with the Bokeh mode contain a bit lower amount of details when taking Bokeh shots indoors. We got the best results outdoors with our subject well-lit in direct sunlight. We also saw that Bokeh images taken indoors had more resolved detail within closer range.
You can see how the HTC U12+ stacks up against competitors in our photo compare tool. The library is pretty extensive.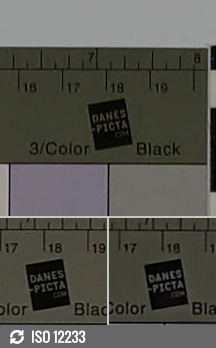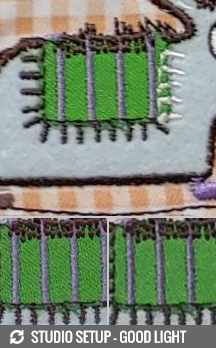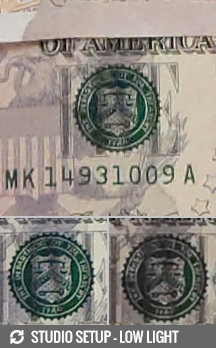 HTC U12+ (12MP) vs. HTC U11+ (12MP) vs. Huawei P20 (12MP) in our Photo compare tool
Here is a link for the telephoto camera as well. Just a reminder, it actually shoots at 12MP, and the phone will only let us use it under good lighting conditions. Hence, the low-light samples are actually from the main snapper.
Selfie camera
The front-facing cameras are not bad. Selfies come out a bit soft though. Details aren't the best of any other front camera out there, but direct sunlight definitely helped us get the best out of this one.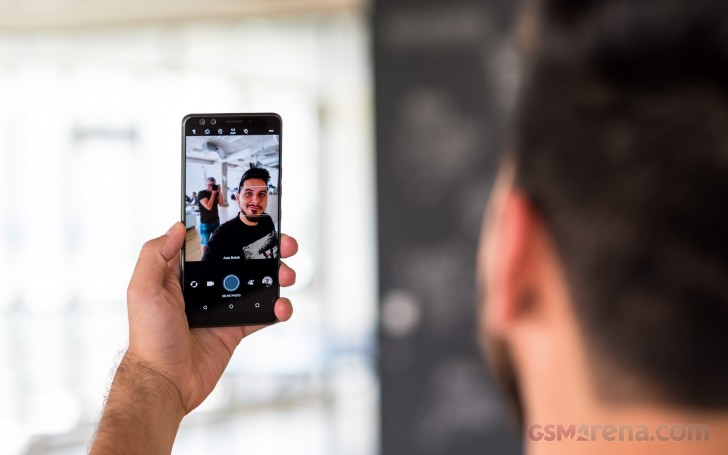 Something to keep in mind is that HDR Boost is best used in brighter lighting conditions. It does a good job of bringing highlights down to an acceptable level. If you were to take the same kind of Bokeh selfies outside in the late-afternoon on an overcast day, you'll find that HDR Boost actually doesn't work in favor of the image. It still tries to bring down the highlights, even though they don't need to be, resulting in an image with darker tones and unnecessary contrast.
Panorama
The U12+ can take panorama images in portrait or landscape orientation. Resolved details look pretty good, but vertical resolution is lost when you sweep the phone parallel to the scene. You should flip the phone to a vertical orientation. The horizontal panorama has a height of 1,524 px while the vertically oriented panorama we took was 3038 px in height.