After a long rumors finally pixel 3 xl live images and specs is leaks.The leak encompasses a lot of what the phone will be – its design and looks, its specs, its retail package and even shares the first camera samples, captured with the Google Pixel 3 XL. Let's break it down.
The first batch of photos show Google's next flagship from the front and the back, giving us a good look at the huge unsightly notch on the top and the components it's housing.
You have an infrared sensor for face scanning, an earpiece that will double as one of two stereo speakers and the selfie camera. The back of the device looks nearly identical to the current Google Pixel 2 XL. It contains a fingerprint scanner as well as a single camera and LED flash.
There are a few images with the About screen as well as an AIDA64 screenshot. The About screen confirms that the Pixel 3 XL will have Active Edge functionality (squeezing the phone will activate Google Assistant), while AIDA64 reveals a 3,430mAh battery and a a 6.71-inch 1440x2960px screen. Now the diagonal is probably off as such apps don't have a way of detecting it properly and often get it wrong.
Moving on to an image of the retail package of the Google Pixel 3 XL. It looks like Google will finally supply hadphones with its Pixel devices and what's more, they look like the $160 Pixel Buds, only they're wired. The rest of the package is the same as on the current Pixel 2 and 2 XL – a USB-C to USB-C cable, USB-A to USB-C adapter, USB-C to 3.5mm adapter and a wall charger.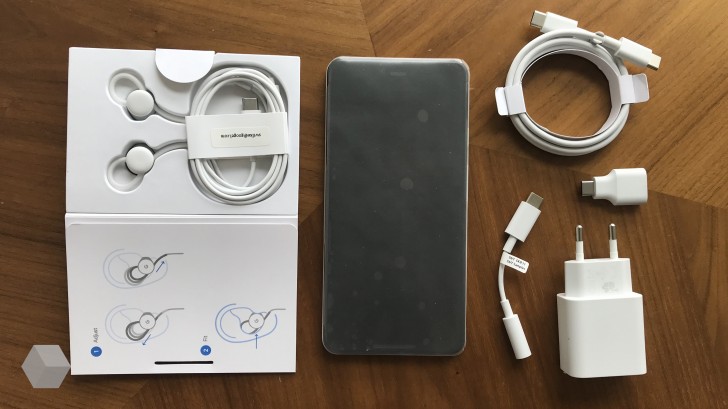 Google Pixel 3 XL retail box
The next batch of photos show more of the phone. Interestingly the device doesn't look big enough in the hand further suggesting that the claimed 6.71-inch screen is a misreport.
Another batch of device photos, this time in White. They show the new power button color – lime.
The next two leaks are from the same person – Maksim Khoroshev. He was able to capture a bunch of photos with the Pixel 3 XL's camera and show the phone being wirelessly charged – yay!
The Google Pixel 3 XL (and the smaller Pixel 3) will be announced in October which leaves a lot of time for future leaks to uncover the few details we don't already know.