It is no secret that a great number of the early ICOs did not meet investors' expectations. While this led to a stagnation, there are still investors looking into blockchain-based projects. What they need now is a solid base for investment decision-making—relying on intuition, marketing promises, and brochures just don't work any more.
This is where traditional VC methods can be used. Of course, it is not enough to just apply these to blockchain projects; we need to take the specifics of the industry into consideration.
One key differentiation between ICOs and the traditional VC model is that the startup sees a major investment flow in its earliest stages. So, ICO investors usually have way less information and time to decide on an investment of several million or more.
ICO investment requires raising standards on all assessment criteria, especially for the team. The analysis of the project's team can be divided into three stages.
First stage
The first stage of team assessment revolves around work with public information.
Here, we start to explore the founders' backgrounds—their experiences and competences. To do this, we use the so-called "graph of competences" to record our assessment.
The graph shows a person's achievements on the horizontal axis and his/her previous working experience and market knowledge on the vertical axis.
This provides us with a clear understanding of the company's management potential and the senior management team's (SMT) combined expertise.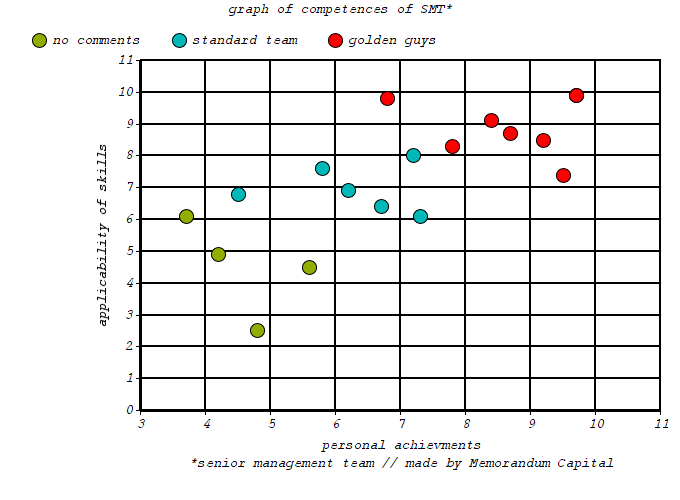 To illustrate, the highest mark on the horizontal axis will be given to the CEOs with previous experience of startup exits. It is important to know that projects that started successfully but failed midway are still failures. Only the completion of an exit strategy makes the project successful.
These so-called "golden guys" are then followed by the CEOs of companies and owners of SMBs, with middle-managers displayed on the left side of the graph.
For the vertical axis, those who have launched products similar to the current project are positioned at the top. Next are the people with some industry experience, followed by the managers from relevant fields. People with no relevant experience are placed toward zero.
Then, we must analyze the team's "power." Focus on the number of team members and their involvement in the project (a large number of part-time team members does not benefit the final outcome). I would recommend looking at the parallel career developments of key team players, which can be tracked via LinkedIn.
Apart from qualifications, it is important to check the achievements of the startup's advisors, if they are relevant to the industry, and how well they are connected, as their network is sometimes their most valuable asset.
The first stage is aimed at digging through the marketing layer.
Second stage
This stage comprises of your personal communication with the founders, which is usually in the form of an in-depth interview.
Questions asked during an interview can cover a broad range of aspects: how the company is managed, how it is structured, and what role the advisors play. Founders will gladly talk about their achievements and successful projects—this will also give you some ground for building their profile.
It is crucial here to talk to the company's employees, as they can give you a different angle on key issues. Imagine that you are hiring each of them and analyzing their qualifications. The general team atmosphere is also extremely important—crypto projects are usually developed with speed, so employees are under immense pressure.
The objective of the second stage is to check the people you are going to entrust your money to and understand how honest and open they are to conversations with investors.
Third stage
After the second stage, you might have a fairly clear picture of the business in general and are ready to proceed to the third (most interesting) stage: due diligence itself.
It is a common misconception that due diligence is a secret know-how. In reality, it requires two things: thoroughly checking all information from the first two stages and then filling in the missing parts of the puzzle.
The first task requires double-checking every detail of your communications with the founders or other team members. You can do this through making telephone calls to former co-workers or employees and comparing all the facts. Information on open sources like employee social media profiles and publications about the founders and advisors can also be valuable.
The second task involves gathering information that was left out for any reason. It might have been deliberately or unconsciously concealed, but regardless, you will not be able to complete the third stage until you have answers to all of your questions.
It can also be useful here to "compare notes"—answers to the same questions given by different people.
It also doesn't hurt to ask yourself these questions:
Can this team be trusted?
Are the founders motivated enough?
Will they be able to go until the end?
Do they have the necessary competences?
What kind of people do they have in their team?
These are the questions every investor asks before deciding to invest in a startup.
***
Every time progress brings new technology, the enthusiasts argue that it cannot be managed, measured, and analyzed by old-school, traditional methods. However, it is the opposite. Classical VC methods are useful in the brave new crypto world and create a solid and objective basis for an investor's decision-making.